Online Hiking From Home 200407
7 abril 2020 @ 6:30 pm

-

8:00 pm

Gratuito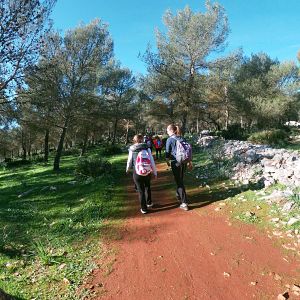 Online hiking from home
We're all aware of the situation we're facing right now. Who doesn't dream of getting out of the house? Do you miss running, escaping to the mountains and enjoying nature and that feeling of freedom? One more day is one day less! 
In the meantime, we have something prepared to make your home confinement easier and more bearable. Who said being at home was boring? We have prepared a session full of exercises that we will do together and through which you will be able to enjoy the maximum hiking routes with less effort. Plus, you're risk-free! From home, we'll avoid injuries and muscle overloads and we'll work on aerobic capacity, endurance and muscle strength.
Are you still thinking about it? It will also be a wonderful opportunity to talk to each other, get out of the house and routine virtually, and of course, exchange experiences and even practice languages.
This workshop is a FREE DoSeville and SevillaInterchange event
The virtual hiking session will take place on TUESDAY APRIL 7 from 18:30 to 20:00 from the comfort of our houses.
We all need to clear our heads. Take advantage of this escape!
If you're interested, text the group leader Raymond at +34

642 62 43 48

and  ¡Don't miss this opportunity!
Senderismo online desde casa
Todos somos conscientes de la situación a la que nos enfrentemos ahora mismo. ¿Quién no sueña con salir de casa? ¿Extrañas correr, escaparte a la sierra y disfrutar de su naturaleza y esa sensación de libertad? ¡Un día más es un día menos!
Mientras tanto, tenemos algo preparado para hacerte el encierro en casa más fácil y llevadero. ¿Quién dijo que estar en casa fuera aburrido? Te hemos preparado una sesión llena de ejercicios que haremos todos juntos y a través de la cual podrás disfrutar al máximo rutas de senderismo con menos esfuerzo. Además, ¡Eres libre de riesgo! Desde casa, evitaremos las lesiones y sobrecargas musculares y nos dedicaremos a trabajar la capacidad aeróbica, resistencia y fuerza muscular.
¿Aún te lo estás pensando? También será una oportunidad maravillosa para hablar entre nosotros, salir virtualmente de casa y de la rutina del encierro y, por supuesto, intercambiar experiencias e incluso practicar idiomas.
Esta actividad es un evento GRATUITO de DoSeville y SevillaIntercambio
La sesión de senderismo virtual tendrá lugar el MARTES 7 DE ABRIL de 18:30 a 20:00 desde la comodidad de nuestras casas.
Todos necesitamos despejarnos ¡Aprovecha esta escapada!
Si estás interesado, escribe al número de nuestro guía Raymond en +34

642 62 43 48

y ¡No te pierdas esta oportunidad!
Os dejamos diferentes enlaces para que obtengáis más información:
Intercambio de Idiomas Conversación con Nativos Únete a nuestro grupo Grupo de WhatsApp de Intercambio de Idiomas Grupo de WhatsApp de Actividades
Últimas fotos Últimos vídeos Contacto
Miércoles y Sábados: Intercambio de Idiomas en White Bar Jueves: Intercambio de Idiomas en Café Tarifa Alameda
Nota: Sevilla Intercambio no se hace responsable de ningún evento que puedas encontrar en su sitio web.
Si quieres enterarte de eventos como éste, sólo tienes que unirte a nuestro grupo.