Online Sevillanas
5 abril 2020 @ 11:30 am

-

1:00 pm

Gratuito
Taller de Sevillanas Online 200301 (Español más abajo).
Online Sevillanas
Let's not let the lock-in be an excuse to stop dancing! From now on, every SUNDAYS AT 11:30 AM you have an appointment to learn how to dance sevillanas online. If you want to feel safe, learning this dance will help you!
We must not stop doing things we like because we can't go out, we must look for new methods to have fun! Enjoy the art of our teachers through the screen and don't miss a step.
This workshop is a FREE Alandum event offered by Sevilla Intercambio
If you are interested, request access by writing to +34 616 865 717 and spend Sunday mornings dancing!
Taller de Sevillanas Online
¡Que el encierro no sea excusa para dejar de bailar! De ahora en adelante, todos los DOMINGOS A LAS 11:30 DE LA MAÑANA tienes una cita para aprender a bailar sevillanas online. Si te quieres sentir seguro, aprendiendo este baile te ayudará!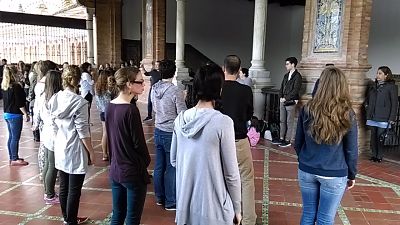 No debemos dejar de hacer cosas que nos gustan porque no podamos salir, ¡Hay que buscar nuevos métodos para pasarlo bien! Disfruta del arte de nuestros profesores a través de la pantalla y no pierdas un paso ¿Te apuntas?
Este taller es un evento GRATUITO de Alandum que te ofrecemos desde Sevilla Intercambio
Si estás interesado, solicita acceso escribiendo a  +34 616 865 717 y ¡Pasa las mañanas de domingo bailando!
Os dejamos diferentes enlaces para que obtengáis más información:
Intercambio de Idiomas Conversación con Nativos Únete a nuestro grupo Grupo de WhatsApp de Intercambio de Idiomas Grupo de WhatsApp de Actividades
Últimas fotos Últimos vídeos Contacto
Miércoles y Sábados: Intercambio de Idiomas en White Bar Jueves: Intercambio de Idiomas en Café Tarifa Alameda
Nota: Sevilla Intercambio no se hace responsable de ningún evento que puedas encontrar en su sitio web.
Si quieres enterarte de eventos como éste, sólo tienes que unirte a nuestro grupo.